Welcome To Quebec
Quebec is perhaps the most well known of all Canadian provinces. She is the heart of French Canada, with French being the sole official language here and the population predominantly French speaking. The reason for this is simple, a large segment of those in Quebec are descended from French settlers. So as you'd expect, this part of Canada maintains strong links with France, both culturally and economically. And when it comes to the economy, Quebec is incredibly wealthy. Thanks in part to her natural resource deposits and business friendly environment, Quebec is responsible for approximately 20 percent of Canada's economy. So it will not surprise you to learn countless large businesses can be found here. But what actually is the biggest company in Quebec?
The answer to that question may surprise you. The biggest company in Quebec is not a mineral extraction company, nor is it an aerospace or technology development firm. It's actually a convenience store business called Alimentation Couche-Tard.

The Rise of Alimentation Couche-Tard
In 1980 a Quebec businessman Alain Bouchard a small convenience store in the city of Laval. At the time convenience stores were still in the process of being laid out across North America, meaning many smaller cities and towns were devoid of competitors. After five years in operation he was able to purchase a chain of convenience stores called Couche-Tard. The chain consisted of 11 stores, dwarfing his sole store. So he decided to incorporate them collectively under the name Alimentation Couche-Tard. From now on he would build on the pre-existing Couche-Tard brand, developing it into a strong regional chain. Following decades would see his new corporation absorb countless other small convenience store chains. But it was in the 1990s they really stepped things up, purchasing major chains across Canada.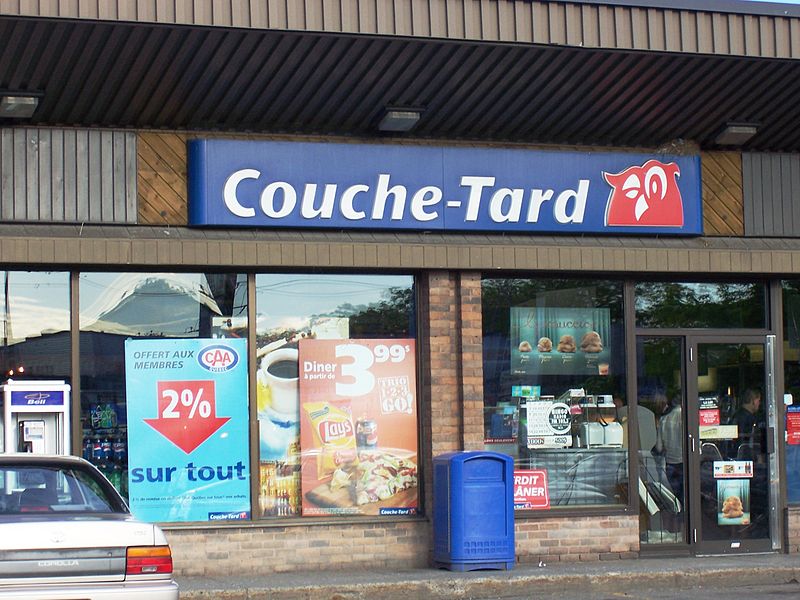 In 1997 they bought a chain called Provi-Soir. On top of it's dozens of store locations, it gave them a new logo, the winking owl mascot now so heavily associated with Alimentation Couche-Tard. Alimentation Couche-Tard has kept some of these smaller chains alive as independent brands – among which Provi-Soir. In 2001, Alimentation Couche-Tard expanded outside of Canada, purchasing a 170 store chain in the United States. But the American market proved difficult to break into, so two years later they purchased the already dominant Circle K chain. Boasting almost 15 thousand locations, it is second only to 7-Eleven in the United States. Owning one of the two largest convenience store chains in the US, and the largest in the Canada, it's easy to see how this is the biggest company in Quebec.

Becoming The Biggest Company In Quebec
Alimentation Couche-Tard was been continually expanding almost since it's founding in 1980. In recent years they have been aggressively making progress in the US and Europe. For example, just this year they absorbed yet another major chain of 3900 convenience stores. In Quebec alone they now operate more than 850 stores, with around the same number in Ontario, and many more in other provinces. They even own a large chain of convenience stores in Scandinavia, purchased in 2012 for 2.8 billion dollars. Alain Bouchard and his primary business partners have all become multi billionaires, and their personal wealth seems to only be growing. Alimentation Couche-Tard has more than 100 thousand employees across the globe. They trade publicly on the Toronto stock exchange and boast a revenue of 51 billion US dollars. This combined with it's total valuation makes it the biggest company in Quebec by a country mile.